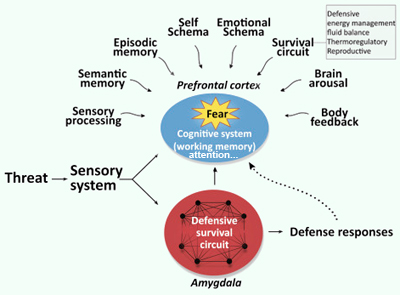 This website and this blog have been around long enough now (over 15 years and nearly 7 years, respectively) to have witnessed the ongoing evolution and refinement of certain concepts in the neurosciences. We all know that science evolves, but it can be interesting to see how. That's what I'd like to show today, using an example of conceptual evolution. This example relates to the amygdalae—the two almond-shaped groups of neuronal nuclei on either side of the brain that were associated with human fear reactions very early in the history of neuroscience. Indeed, studies such as those by Joseph LeDoux have shown that when a threatening stimulus is presented to rats or humans, the neurons in each amygdala in their brains become highly active.
But as brain-imaging studies became more common, they showed that the activity in someone's amygdala could also increase in other situations as well (for example, when that person was extremely hungry or saw a loved one suffering). Scientists therefore began to hypothesize that the activity in these brain circuits had more to do with a strong concern about something that affected the individual's survival directly or indirectly. The fact that in each of the three situations just cited, there is also activity in other brain structures, and that different structures are involved in each case, would explain the different subjective feelings associated with each of them. As this site and blog have stressed many times, there is no "center" for anything in the brain. Everything that happens in it involves collaboration among several areas of the brain that differ in their computational capacity but rarely specialize in a single psychological function.
In an article published in the journal Trends in Cognitive Sciences in May 2017, Joseph LeDoux offers another caution about the human brain's unique capability to be studied both from the outside ("objectively", in the third person, to describe neuronal mechanisms and behaviour) and from the inside ("subjectively", in the first person, to describe life as experienced by an individual and reported by that individual verbally). LeDoux's caution is basically very simple: beware of taking words that are commonly used to describe a subjective state (such as fear) and applying these same words to describe behaviours or the brain circuits that control them (very often unconsciously), because if you do, you may unfortunately cause these brain circuits to take on properties associated with this state, often resulting in a lot of confusion. The same problem was cited recently by Michael Petrides (page 136 of this pdf) with regard to some "functional labels" that had slipped into the most recent map of the brain published in the journal Nature in summer 2016 by Matthew Glasser and his team.
So, to come back to the amygdala: the activation of this brain structure does not "cause" fear. Fear is a conscious subjective feeling in which many different brain structures are involved, in particular the prefrontal cortex, whose circuits contribute to working memory and other "executive" functions (such as attention and planning). LeDoux recognizes that the classic "implicit/explicit" distinction regarding an emotion such as fear, which made it possible to distinguish between the unconscious aspect of the amygdala's work and the conscious work of the cortex, leads to confusion because of the excessively strong conscious connotation of the functional label "fear". He therefore proposes that from now on, when we talk about the amygdala, we use the term "defensive survival circuits" rather than "fear circuits", and confine our use of the word "fear" to describe the common, readily identifiable subjective experience in question.
Emotions and the Brain | No comments
---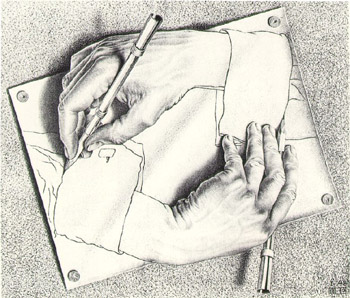 The third and final session of my course at UPop Montréal started by asking whether our brains really process our most abstract concepts in the way proposed by cognitivist theory: that is, as arbitrary symbols that have nothing to do with the sensory modalities by which these "inputs" are entered. But as early as the 1960s, experiments with the mental rotation of objects seemed to suggest that, on the contrary, when we perform "high-level" mental manipulations of this kind, we employ the sensory regions of our brain to do so. (more…)
Body Movement and the Brain | No comments
---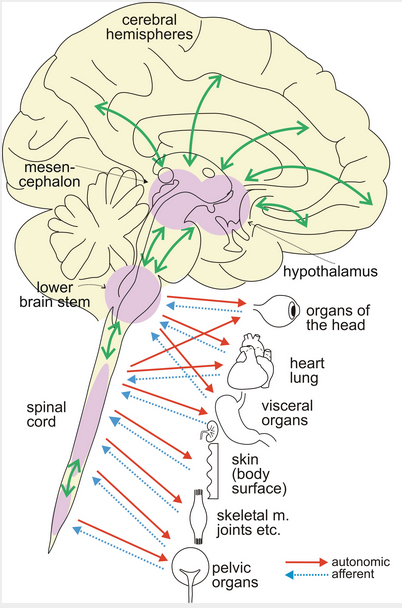 In April 2017, while preparing a lecture for a course on embodied cognition that I teach in French at UPop Montréal, I had to refresh my memory about the major communication pathways between the brain and the rest of the body, and one thing that struck me was just how many of these pathways there are!
I won't talk here about the communication pathways that are part of the hormonal and immune systems. Instead, I'll focus on the pathways in the nervous system alone. (more…)
Emotions and the Brain | No comments
---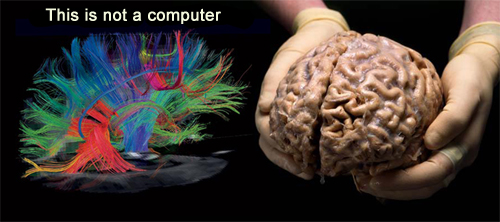 In the spring of 2017, I had to give a one-hour basic lecture about the human brain as part of a a free course for the general public at UPop Montréal. With so many different possibilities, deciding what approach to take in my lecture was no small challenge. In the end, I decided to start by trying to explain what the brain is not and dispelling a number of frequent misconceptions.
Most of the metaphors that compare the brain with a computer are pretty misleading, so I began by taking them apart, and then replacing them with others that better account for the selective, self-organizing dynamic processes that take place in the human brain and make the subtlest mental states possible. Thus, instead of comparing the brain to a computer, I used metaphors such as strange attractors in chaos physics and the complex flow patterns in a mountain stream—metaphors that can embrace both the long evolutionary history of the human brain, which accounts for its overall structure, and the neural networks that develop in an individual's brain through a process of selection over that person's lifetime. (more…)
From the Simple to the Complex | No comments
---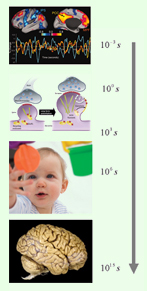 Today I want to talk about dynamic processes that occur on some very different time scales in the human nervous system. To do so, I will describe four examples very briefly, referring to the two graphics in this post.
The first of these processes, represented at the bottom of each graphic, is the evolution of the human nervous system, which occurs on the longest of these time scales, measured in millions of years. Over these very long periods, sexual reproduction has accelerated the diversification of our nervous systems by regularly producing variants or mutations. Some of these variants have proved capable of viable structural couplings with certain environments and have thus enabled their lucky owners to pass these nervous systems down to their descendants. I am purposely avoiding saying that these nervous systems are "better adapted to their environment", so as not to imply that part of this environment is unchanging or that there is always some optimal level of adaptation that organisms can achieve. To state it succinctly, evolution is more proscriptive than prescriptive: it of course eliminates certain mutations that are too incapable of viable coupling with their environment, but it "allows" all the rest. (more…)
Emotions and the Brain | No comments
---