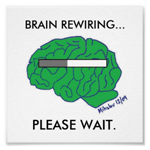 This week, I want to recommend a Brain Science Podcast featuring Dr. Norman Doidge, first posted online in February 2015. This podcast was in a sense a sequel to one devoted to Doidge's book The Brain That Changes Itself (links to both podcasts are provided below). Both of these programs discuss a fundamental characteristic of the human brain: its great plasticity, even in adults—in other words, the fact that the brain's neural circuits reorganize themselves constantly throughout our lifetimes.
In the second of these podcasts, Dr. Doidge and host Dr. Ginger Campbell discuss the implications of the brain's plasticity for rehabilitation following brain injuries. Although researchers have amply demonstrated this plasticity, clinicians unfortunately still tend to minimize its importance, possibly because the treatments based on it, such as those proposed by Dr. Doidge, require patients to participate actively, instead of just taking pills.
In the same conversation, Dr. Doidge also confirms two ideas that are making increasing inroads in the scientific community. The first is that in their discussions of human cognition, some scientists may be placing too much emphasis on the role of the cerebral cortex. Other scientists have made similar statements—for example, Merker in his writings on consciousness and Panksepp in his writings on emotions. The example that Doidge cites is the case of sub-cortical injuries for which the cortex may compensate in some way, but at the cost of experiencing a "work overload" that results in other problems. These problems are then mistakenly attributed to the cortex, because it is so important in the human brain (accounting for 80% of its mass).
The second idea that Doidge underscores is one that has been discussed frequently in this blog: that we are more than just our brain. But in no way is Doidge arguing for a return to some form of dualism He is simply acknowledging an undeniable fact: animals' nervous systems have always evolved within their bodies, which are in turn situated in their environments. And it is this entire nested system, this embodied cognition, that lets individuals "think in the world", or rather "think their world into being" the product of the traces stored in their nervous systems throughout their lives thanks to the plasticity of their neural connections.
Les Étonnants pouvoirs de transformation du cerveau

9th Annual Review of Neuroscience (BSP 125)

BSP 116: Norman Doidge on Brain Plasticity

Neuroplasticity with Dr. Norman Doidge (BSP 26)
Memory and the Brain | No comments
---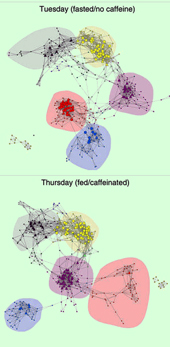 If you use social media, you have probably seen posts where someone has shown photos of themselves taken at regular intervals over a long period. Well, Stanford University psychologist Russell Poldrack has gone them one better: he has scanned his own brain twice per week for a year and a half! But Poldrack's goal isn't simply to wow his friends on Facebook. He is using the scans to do something that has never been attempted before: to understand how the connectivity of a normal person's brain may vary over a period of several months, a span of time in which people with mental disorders often show considerable fluctuations in their psychological functions.
Poldrack calls his study "MyConnnectome", and he published his initial results in the December 9, 2015 edition of the journal Nature Communications. It might seem surprising that no one had ever gathered such data before. But not many normal subjects would have been willing to do what Poldrack did: get into an MRI machine for a brain scan two mornings each week (one of them on an empty stomach) for a year and a half, have blood samples taken once per week, and write a report on his diet and physical activity every day. It took a scientist who was really motivated to advance the state of knowledge. (more…)
From the Simple to the Complex | No comments
---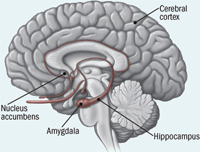 Perhaps one of the hardest things to understand about the brain is the way that it is organized into networks. In this post, I will discuss a 2015 study, on the brain structures involved in delayed gratification, that makes this complex subject a bit easier to grasp. (more…)
Pleasure and Pain | No comments
---
The motor cortex was long thought to be the part of the brain that controlled the body's voluntary movements. Given the plasticity of the cortex as a whole, it seemed reasonable to believe that decisive changes in the connectivity of the neurons in the motor cortex might well be associated with motor learning. Although this may indeed be the case, a study published by Risa Kawai and colleagues in the journal Neuron in May 2015 forces us to reconsider the primacy of the motor cortex in learned sequences of movements, at least in rats. (more…)
Body Movement and the Brain | No comments
---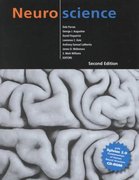 Whenever I give a presentation about the human brain, someone almost always comes up afterward and asks me whether I could recommend a good general book on neuroscience. In fact, there are several such books, but the one that I want to recommend here today offers a special advantage: you can buy a printed copy, but you can also access the entire book on the Internet for free!
The book that I'm talking about is Neuroscience, 2nd edition, edited by Dale Purves et al. and published by Sinauer Associates in 2001. It covers wide areas of modern neuroscience and is chock-full of very informative figures and tables. (more…)
From the Simple to the Complex | No comments
---