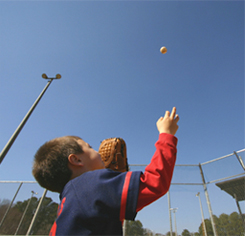 Today I'd like to talk about a problem that is a classic both for baseball players and for cognitive scientists. And the way that baseball players solve it has helped cognitive scientists to better understand the important role that the body plays in cognition.
The problem is as follows: how does a baseball player go about catching a baseball that has been hit high into the air, especially when the player is in centre field and the ball is following a long, parabolic trajectory that would otherwise cause it to land several metres from where the player is standing? How does the player go about calculating this trajectory and moving, in just a few seconds, to the right place to catch the ball? This is what has long been known in English as "the outfielder problem." (If you're more of a soccer fan, imagine a backfielder successfully heading a long throw-in by the goalkeeper.) (more…)
Body Movement and the Brain | No comments
---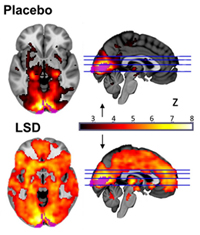 "This is to neuroscience what the Higgs boson was to particle physics."
This eye-catching remark comes from neuropsychopharmacologist David Nutt, and he is talking about a study on which he was the senior researcher: "Neural correlates of the LSD experience revealed by multimodal neuroimaging", published in the journal Proceedings of the National Academy of Sciences in April 2016. And like the results of the research on the Higgs boson, the results of Nutt's study confirmed the theory—in this case, that the observed changes in brain activity would provide a very good picture of the mental state produced by an "acid trip". (more…)
The Emergence of Consciousness | No comments
---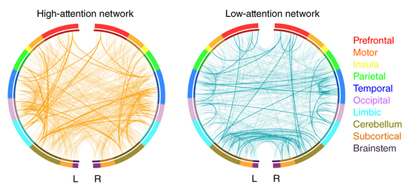 This week, I'd like to tell you about two very interesting articles. The first, by Emily S. Finn and her colleagues, was published in the journal Nature Neuroscience in October 2015 and is entitled "Functional connectome fingerprinting: identifying individuals using patterns of brain connectivity." As its title suggests, Finn's research team successfully identified individuals from patterns not on their fingertips, but rather in their brains! (more…)
From the Simple to the Complex | No comments
---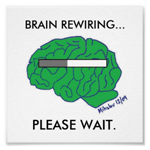 This week, I want to recommend a Brain Science Podcast featuring Dr. Norman Doidge, first posted online in February 2015. This podcast was in a sense a sequel to one devoted to Doidge's book The Brain That Changes Itself (links to both podcasts are provided below). Both of these programs discuss a fundamental characteristic of the human brain: its great plasticity, even in adults—in other words, the fact that the brain's neural circuits reorganize themselves constantly throughout our lifetimes. (more…)
Memory and the Brain | No comments
---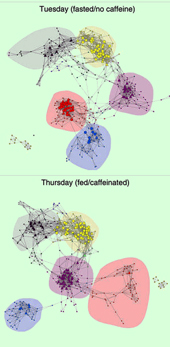 If you use social media, you have probably seen posts where someone has shown photos of themselves taken at regular intervals over a long period. Well, Stanford University psychologist Russell Poldrack has gone them one better: he has scanned his own brain twice per week for a year and a half! But Poldrack's goal isn't simply to wow his friends on Facebook. He is using the scans to do something that has never been attempted before: to understand how the connectivity of a normal person's brain may vary over a period of several months, a span of time in which people with mental disorders often show considerable fluctuations in their psychological functions.
Poldrack calls his study "MyConnnectome", and he published his initial results in the December 9, 2015 edition of the journal Nature Communications. It might seem surprising that no one had ever gathered such data before. But not many normal subjects would have been willing to do what Poldrack did: get into an MRI machine for a brain scan two mornings each week (one of them on an empty stomach) for a year and a half, have blood samples taken once per week, and write a report on his diet and physical activity every day. It took a scientist who was really motivated to advance the state of knowledge. (more…)
From the Simple to the Complex | No comments
---