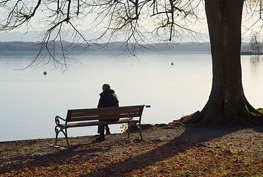 John Cacioppo is a pioneer in the field of social neuroscience. He observes that people who are socially isolated were long thought to be suffering from some form of mental illness. But research done on this subject by Cacioppo and a number of other scientists over the past 10 to 20 years shows that social isolation is very much caused and/or aggravated by environmental factors in the broad sense, ranging from political decisions to economic ideologies. Not the least of these factors is the emphasis that our capitalist societies place on productivity. People who cannot find their place in this highly hierarchical, competitive system are too often regarded as "losers" whom an increasingly frayed social-safety network can no longer support adequately. (more…)
Mental Disorders | No comments
---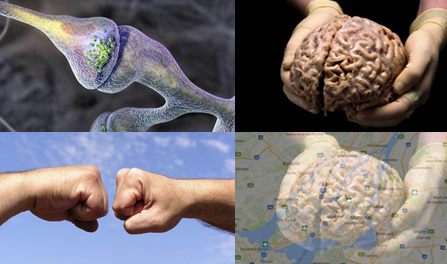 When I'm making presentations about the human brain to live audiences, the quick, easy method I often use to show them a three-dimensional model of a brain synapse is to hold my two fists facing each other, very close together, but not touching. One fist thus represents the axon of the pre-synaptic neuron, while the other represents a dendritic spine on the post-synaptic neuron. This macro model of a synapse is about 20 centimetres long.
In comparison, a real synapse in a mammalian brain is about 1 micron (one thousandth of a millimeter) long. This estimate includes the terminal button (the swelling at the tip of the axon), the dendritic spine (the swelling on a dendrite of the second neuron which receives the connection from the axon of the first), and the synaptic gap (the space between them). Into this gap, the axon of the pre-synaptic neuron releases its neurotransmitters, which immediately bind to the receptors in the membranes of the post-synaptic neuron's dendritic spine. (more…)
From the Simple to the Complex | No comments
---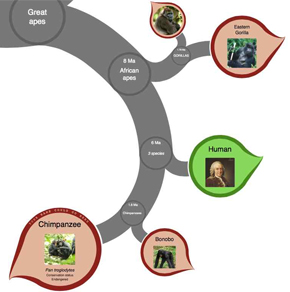 This week I want to tell you about two great websites for learning about the genealogy of every living thing on planet Earth. The first is the evogeneao Tree of Life Explorer, and it uses an incredibly ingenious design that lets you click on any currently living species and trace back to the common ancestor that humans share with it. An animation then shows you where this common ancestor is located in the phylogenetic tree of all living things and tells you how many years ago this common ancestor lived. (more…)
Evolution and the Brain | No comments
---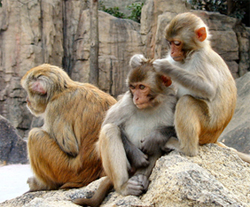 A study published in the November 25, 2016 issue of the journal Science shows that subordinate status in a social group seems to have harmful effects on an individual's immune system. More specifically, this study found that a female rhesus monkey's relative position in her group's dominance hierarchy influenced the functioning of her immune system in the following way: the lower her rank, the fewer immune cells of a certain type her body produced.
And such differences seem to be caused by the activation or non-activation of certain genes. The study's authors found that when they used experimental manipulations of the group to change individuals' ranks in the hierarchy, the rate of expression of these genes changed as well. (more…)
Mental Disorders | No comments
---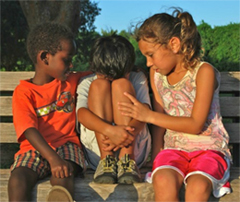 The existence of empathy and altruistic behaviour among various species of animals has been amply demonstrated. Among elephants, examples include comforting members of the herd who are frightened, rescuing others when they get get stuck in mud holes, and adopting orphaned babies. Chimpanzees and bonobos display sophisticated altruistic behaviours in dealing with weak or disabled members of their troops, trying to help them stand, bringing them food, and covering them with vegetation after confirming that they have died.
The human species is no exception. We human beings depend so much on one another and our societies are so complex that our ability to put ourselves in someone else's shoes, to feel what they are feeling and to act accordingly, is quite obvious. Ethologists and evolutionary biologists agree that in species that form complex societies in which cooperation and mutual assistance constitute an advantage for the entire group, empathy developed naturally. (more…)
Pleasure and Pain | No comments
---