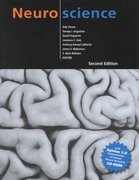 Whenever I give a presentation about the human brain, someone almost always comes up afterward and asks me whether I could recommend a good general book on neuroscience. In fact, there are several such books, but the one that I want to recommend here today offers a special advantage: you can buy a printed copy, but you can also access the entire book on the Internet for free!
The book that I'm talking about is Neuroscience, 2nd edition, edited by Dale Purves et al. and published by Sinauer Associates in 2001. It covers wide areas of modern neuroscience and is chock-full of very informative figures and tables. (more…)
From the Simple to the Complex | Comments Closed
---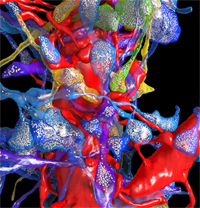 The analogy between a real forest and a "forest of neurons" has been drawn many times, but the images produced most recently by the team of Jeff Lichtman and Narayanan Kasthuri (see the first two links below) make it clear yet again that the complexity of the brain's connections far surpasses that of the densest forest.
As Lichtman has long said, by going down to the scale of the electron microscope and then reconstructing the slightest contacts between axons, dendrites, and neighbouring glial cells slice by slice, we can detect patterns that escape us at the more "macro" scales previously used to model neuronal connectivity. (more…)
From the Simple to the Complex | Comments Closed
---