For decades now, cognitive scientists across the entire range from cognitivists to connectionists have been trying to use computers to model the learning abilities of the human brain. A team at MIT, headed by Dr. Chi-Sang Poon, has just taken a major step in this direction by designing a microprocessor that can simulate the functioning of a single synapse in the part of the human brain known as the hippocampus.
(more…)
Memory and the Brain | Comments Closed
---

Having a word "at the tip of your tongue" is a familiar but frustrating sensation. There it is, not very far, you know it, you can feel it, but you can't find it! To make matters worse, very often another word keeps popping into your mind—you know it's not the right one, but it keeps getting in the way so that you can't find the one you're looking for.  
Scientists say that all of us experience this phenomenon at least once per week, and more often as we get older. They also know that more than 9 times out 10, we end up finding the right word, although often in unexpected ways, and that this is an example of meta…you know, when you make judgments about your own thought processes…mmm, metempsychosis? No. Metencephalon? No, that's not it either. Oh yeah—metacognition! (more…)
From Thought to Language | Comments Closed
---

First of all, I want to say a very big "Thank you" to everyone who has already sent in a donation to help fund our web site. In one week, we have already raised $1750, which is almost enough to pay for all of the basic upkeep on this site for our current fiscal year (April 2013 to March 2014)! This is a very encouraging start. Please pass the word to anyone else you know who enjoys this site and may want to give us some financial support.
*
Just to get a few minutes to breathe, tired parents can be strongly tempted to sit their kids down in front of the television. But a joint study by Quebec's Sainte Justine university hospital and the University of Michigan, published in the Archives of Pediatrics & Adolescent Medicine, should convince anyone that this is a bad idea. This study showed that the more time children spent in front of the television at ages 2 and 4, the more problems they had in school and the more unhealthy habits they had acquired by age 10. (more…)
How the Mind Develops | Comments Closed
---

Well, the on-line donation system to let our readers help fund The Brain from Top to Bottom is now up and running. To learn more about why we have turned to you to help meet our budget, and how you can make a donation, please read the column to the right.
As that column indicates, we plan to keep this site free, and free of advertising, and one day we hope to find a permanent sponsor so that we don't have to ask you for help any more. But until then, we have had to turn to this fundraising method–sometimes known as "crowd-sourcing"–simply to survive. Since we first announced six months ago that we were looking for new funding, so many people have written to say that they would be happy to make a donation that we have decided to give them the chance to do so. To all of you who do make a donation, we want to say thanks in advance. Because of you, our team will be able to devote the time needed to maintain this site and keep adding new content to it. (more…)
The Emergence of Consciousness | Comments Closed
---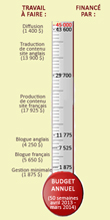 As you can read in the column to the right, after having sponsored us for more than 10 years, the CIHR Institute of Neurosciences, Mental Health and Addiction has been forced by budget cuts to cease our funding as of March 31, 2013. We were given the news in August 2012, and ever since our little team has been looking for another source of stable funding to let us continue our mission of providing the general public with the best possible information about the brain and neuroscience.
We have approached a number of organizations, all of which have recognized the value of our work, but we still have not succeeded in finding a sponsor. So for the moment, we are forced to turn to our readers for funding to let us continue updating and adding new content to this blog and this web site. (more…)
From the Simple to the Complex | Comments Closed
---