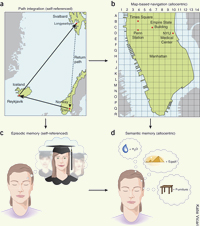 Sometimes someone comes up with a hypothesis whose parts fit together so neatly that it seems amazing that no one has ever thought of it before. A good example is the hypothesis proposed by György Buzsáki and Edvard Moser in the January 2013 issue of the journal Nature Neuroscience, where they propose that there is an evolutionary continuity between the cognitive processes that we use to orient ourselves in space and and the mechanisms that underlie our declarative memory. (more…)
Memory and the Brain | No comments
---

The first living organisms composed of more than one cell first appeared on Earth slightly over 3 billion years ago. Once they did, the need arose for all of the cells in each organism to co-ordinate their efforts toward a single goal: the survival of the organism as a whole. To do so, these cells began secreting molecules that, by binding to the surface of other cells, informed them about what was happening elsewhere in the organism.
That, in short, is the origin not only of the human hormonal system but also of human synapses: the connections between nerve cells. In general, when people talk about synapses, they are referring to chemical synapses, into which neurotransmitters are released by the presynaptic neuron, then migrate across a space measured in nanometres to bind to receptors on the postsynaptic neuron on the other side.
But there is another category of synapses as well: electrical synapses. (more…)
From the Simple to the Complex | No comments
---

For decades now, scientists have had a good knowledge of the descending neural and hormonal pathways by which the human brain influences the human body. But until quite recently, there was still a tendency to underestimate just how much the human body influences the human brain. In an experiment reported in 2010, however, social psychologist Amy Cuddy showed that simply adopting a body posture associated with dominance will, within two minutes, cause measurable changes in people's blood concentrations of certain hormones, and in certain of their behaviours, such as risk-taking. (more…)
From Thought to Language | No comments
---

He was almost as famous as Henri Molaison, the famous patient "H.M." who was studied for decades by eminent researchers such as neuropsychologist Brenda Milner, in Montreal, and who died in 2008. Patient "K.C.", whose real name was Kent Cochrane, died more recently, on March 27, 2014, at the age of 62.
K.C. grew up in the suburbs of Toronto. Unlike H.M., who had had his two hippocampi surgically removed because of epilepsy, K.C. suffered serious damage to his brain, including both hippocampi, in a motorcycle accident on his way home from work, at the age of 30. (more…)
Memory and the Brain | No comments
---
Science in general, and neuroscience in particular, are constantly evolving. So even though our knowledge of a given brain structure may not have undergone a scientific revolution or a paradigm shift at any given time, when we compare what we know about it now with what we knew, say, 10 years ago, we may find that things have changed a lot. That's certainly the case for the amygdala, a small but very important piece of the brain. And since we first described the amygdala on this website just about 10 years ago, we'd like to give you a little update now. (more…)
Emotions and the Brain | 1 comment
---