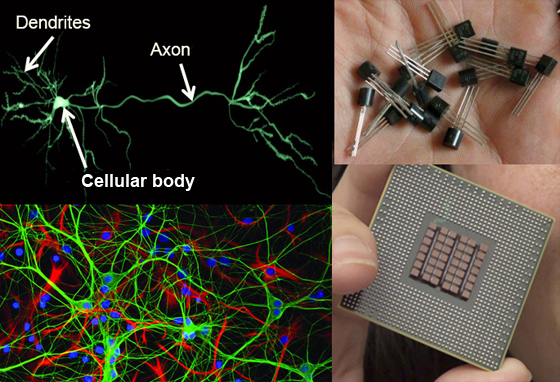 When you move through space, your sensory perceptions change constantly, in real time. What we call cognition can be equated with this uninterrupted flow of perception and action through by a body and a brain located in an environment. But as scientists have now told us, the modern human brain contains many neurons that are neither sensory nor motor—so many that it can sometimes be hard to realize that this perception/action loop is still the foundation of the nervous systems of primates and other animals. These interneurons, as they are called, receive nerve impulses from sensory neurons and transmit signals to other neurons, and so on. And at some point in time, after all sorts of indescribably complex detours, a motor neuron will receive signals from some of these interneurons and then be able to command a muscle to contract to make a body part move.
What distinguishes the nervous system from other communication systems in the human body, such as the endocrine and immune systems, is its speed. The time that elapses between a perception and a suitable bodily action in response can be a second or less. How do the myriad neurons in the nervous system manage to communicate with one another so rapidly? (more…)
From the Simple to the Complex | Comments Closed
---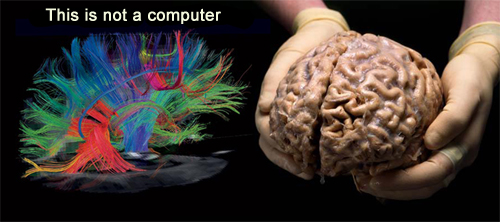 In the spring of 2017, I had to give a one-hour basic lecture about the human brain as part of a a free course for the general public at UPop Montréal. With so many different possibilities, deciding what approach to take in my lecture was no small challenge. In the end, I decided to start by trying to explain what the brain is not and dispelling a number of frequent misconceptions.
Most of the metaphors that compare the brain with a computer are pretty misleading, so I began by taking them apart, and then replacing them with others that better account for the selective, self-organizing dynamic processes that take place in the human brain and make the subtlest mental states possible. Thus, instead of comparing the brain to a computer, I used metaphors such as strange attractors in chaos physics and the complex flow patterns in a mountain stream—metaphors that can embrace both the long evolutionary history of the human brain, which accounts for its overall structure, and the neural networks that develop in an individual's brain through a process of selection over that person's lifetime. (more…)
From the Simple to the Complex | No comments
---