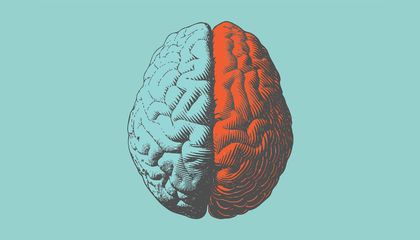 .
Today I'd like to draw your attention to the fact that even though there are two of every structure in the brain – one in the left hemisphere and the other in the right – in many cases, starting with the cortex, the paired structures in the two hemispheres do not have exactly the same functions. (more…)
From Thought to Language | Comments Closed
---

One often reads that certain functions of the human brain are lateralized—for example, that the left hemisphere is more involved in language and the right in the processing of visuospatial information. One also often hears it said that some people are left-brained (meaning that they are analytical, logical, and focused on details) while others are right-brained (more subjective and creative, with more of a tendency to see things as a whole).
But according to a study published on August 14, 2013 in the online journal PLOS ONE, although there is abundant evidence for the lateralization of certain brain functions, the idea of left-brained and right-brained personalities is simply a myth. (more…)
From Thought to Language | Comments Closed
---