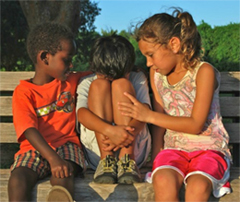 The existence of empathy and altruistic behaviour among various species of animals has been amply demonstrated. Among elephants, examples include comforting members of the herd who are frightened, rescuing others when they get get stuck in mud holes, and adopting orphaned babies. Chimpanzees and bonobos display sophisticated altruistic behaviours in dealing with weak or disabled members of their troops, trying to help them stand, bringing them food, and covering them with vegetation after confirming that they have died.
The human species is no exception. We human beings depend so much on one another and our societies are so complex that our ability to put ourselves in someone else's shoes, to feel what they are feeling and to act accordingly, is quite obvious. Ethologists and evolutionary biologists agree that in species that form complex societies in which cooperation and mutual assistance constitute an advantage for the entire group, empathy developed naturally. (more…)
Pleasure and Pain | No comments
---

This week, as I have before in this blog, I am posting a set of new links to other web sites that discuss a subject covered in The Brain from Top to Bottom. For each link, I also provide a brief description of the content on the site in question.
The subject this week is the sub-topic How Memory Works, under the topic Memory and the Brain. Research on human memory is such an important aspect of cognitive neuroscience today that the number of links on this topic on the Internet is enormous. I have therefore divided my selected links into two groups; I am posting 11 links here this week and will post another 11 next week. (more…)
Memory and the Brain | Comments Closed
---

According to America's Foundation for Chess, an organization that promotes the use of chess in the schools, this age-old game is an ideal learning tool. When children are around age 8 or 9, the brain's analytical abilities are developing rapidly, and playing chess seems to stimulate this development. In any case, studies show that children who play chess do better in most of their school subjects. (more…)
Memory and the Brain | Comments Closed
---