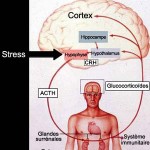 By the late 20th century, cognitive neuroscientists had recognized that they would never truly understand how the brain functions unless they also considered the body in which it does so. This concept of "embodied" cognition implies that the brain constantly maintains a dynamic relationship with the rest of the body, which in turn is totally immersed in its physical and social environment. This model contrasts sharply with others that compare the brain to a computer or treat it as a disembodied organ that simply manipulates symbolic representations of inputs to provide appropriate outputs.
In the 1960s and 1970s, research by Henri Laborit and Robert Ader suggested that the brain maintains especially close ties with the body's immune system. This conclusion has received further support from two recent studies of the body's inflammatory response to stressful and unpleasant social conditions.
The earlier of these studies, published in October 2009, showed how a social situation that the brain perceives as threatening can trigger inflammatory processes that are fairly harmful to the body. Thus, for example, your having to make a speech or perform a math task in front of an audience that is evaluating you can stimulate your immune system to produce certain types of cytokines—protein molecules that promote inflammation. In this study, the more difficulty the subjects had in managing the stress of being evaluated by the audience, the more their production of cytokines increased.
The second study, published in July 2013, revealed a similar phenomenon that can affect people who are suffering from loneliness. It was already known that social relationships, along with a good diet, intellectual stimulation, and frequent exercise, play an important role as a neuroprotective factor that helps slow aging of the brain. What the July 2013 study showed was that an acute stressor can cause a far greater cascade of inflammatory biochemical reactions in lonely people than in people who are well connected socially. Thus this study points to one mechanism that may help explain something that has been known for years: people who are socially isolated are at higher risk for several different health problems.

Social-evaluative threat and proinflammatory cytokine regulation: an experimental laboratory investigation.


Loneliness Promotes Inflammation During Acute Stress
Mental Disorders | Comments Closed
---