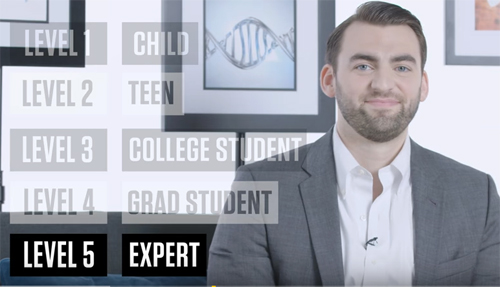 This week I'd like to draw your attention to a series of videos that the U.S. magazine Wired published on YouTube in spring 2017. In each episode of this series, an expert in a particular scientific field explain a complex concept in that field to five different people: a 5-year-old, a teenager, a college student, a graduate student and a colleague who is also an expert in that field. Thus you watch the expert explain the same concept five times—from the simplest possible explanation for the 5-year-old to a high-level discussion with the colleague. This is a highly original teaching approach that you don't see very often, except on some websites where you can drill down from a simpler explanation to a second, more advanced one, or on a certain website about the human brain that provides three levels of explanation at five levels of organization (and whose author clearly must be obsessed with levels, probably because he read too much Laborit in his youth ;-P ).
So you can understand why I couldn't resist telling you about this web series, especially since one of the episodes deals with the connectome, a neuroscientific research topic that I have discussed previously in this blog and also teach in some of the courses that I give in French in Montreal.
As Bobby Kasthuri, the guest researcher in the episode that I'm talking about, explains, many laboratories in the world are using a wide variety of methods to attempt to map the connections among the neurons in the human brain, with an accuracy down to the level of the individual synapse. But this is no easy task, because the brain has about 86 billion neurons, each of which can receive several thousand synaptic connections from other neurons. In fact, given the brain's great plasticity and its ability to form new neural connections throughout an individual's lifetime, a strong version of the concept of the connectome is practically unimaginable. But just as the map of the human genome may not have revealed all of the secrets of genetic diseases but is still an indispensable tool for raising new questions about them, a more accurate knowledge of the human connectome can only help us to better understand how the brain works and perhaps even to gain insight into certain mental disorders.
From the Simple to the Complex | No comments
---