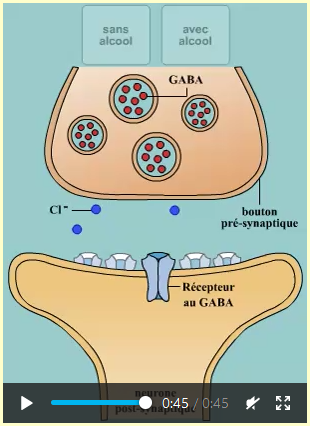 From the very start, The Brain from Top to Bottom was designed to be an interactive website where the general public could learn about the biological bases of human behaviour. Much of this interactivity was provided by its various navigation tools, which let you explore the five different levels of organization of the human brain and human behaviour, choosing the level of explanation that suits you best (beginner, intermediate, or advanced).
But almost immediately, our team realized that because biology and neuroscience involve so many phenomena that are dynamic—that take place over time—we were going to need more than just static images to explain them properly. We therefore used Adobe Flash software to produce about 100 animations illustrating many of these phenomena, ranging from the generation of action potentials to the effects of drugs at the synaptic level, and from the bases of neuronal plasticity to the bases of muscle contraction. But almost 20 years after it was first released, the Flash platform had become obsolete. As of January 12, 2021, Adobe had stopped supporting its Flash Player and blocked Flash animations from running in any web browsers, making all of the animations on our website inaccessible.
Well, the good news that I want to share with you today is that we have now managed to make all of these animations available again. How did we do it? By converting every animation into a short video that you can play with a simple click of your mouse. And when I say "we", I really mean François Chardon, who did all the long, hard work of converting the Flash animations into videos and embedding them in the website, for which I give him my warmest thanks. Several of the animations had already been interactive, in the sense that you clicked a button to move through multiple steps in whatever process they showed. François took each of those animations and recorded it as a single video that shows the steps in sequence and gives you enough time to read the various labels that appear at each step. But you can always pause the video and take as much time as you want to understand a step. You can even pause the video, then use the sliding control at the bottom to back up a bit and review something you didn't quite catch the first time.
As part of this conversion, we also changed the tool that appears at the top left of each page and that you use to navigate from one topic to another within the site. This tool used to be a Flash animation. Now it is a static image that you click to go back to the home page, where you choose whichever topic you want to explore next.
While we were at it, we also upgraded the security of the site and its various components. including this blog, thanks to technical support from Mathieu Ménard of Koumbit, whom I also wish to thank. Mathieu also re-embedded the little animation that appears at the top right of each blog page, with the words "Donate…to help keep us on-line." When I originally posted about the need for these updates, many readers sent in donations, and I want to thank them too. And if you like, it's still not too late for you to make a donation as well. Just click that Donate button, and it will take you to our Funding page. Because it's true that your donations are what lets us keep this adventure going! 😉
From the Simple to the Complex | Comments Closed
---