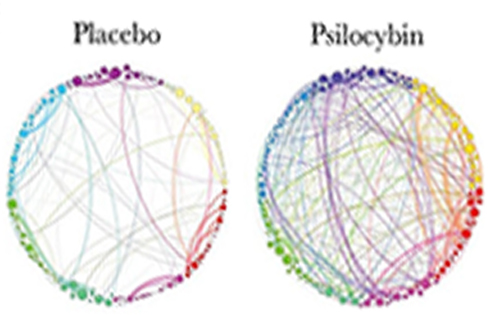 For many decades, the officially illegal status of psychedelic drugs such as LSD made research about them difficult. But more recently, studies done using various forms of brain imaging and in accordance with sound scientific practices have begun to show how these substances modulate brain activity to produce their surprising, varied effects. Broadly speaking, psychedelic drugs alter the functional connectivity between various parts of the brain while modulating the power of certain brain waves. The results are typical of the many cases in which molecules of a neuromodulating substance (in this case, an exogenous one) minimize the effects of certain natural neuromodulating systems by binding to their receptors—in the case of LSD, the receptors for dopamine and serotonin.
Without going into the details, this process can be said to "unify" some brain networks that normally have few or no connections between them. And the form that this unification takes is not random, but rather is specific to the psychedelic substance in question.
But at the same time, a process of "fragmentation" can be said to occur in other brain networks, inasmuch as any given neuromodulating substance can have different effects on different parts of the brain. For example, LSD researchers observed a decrease in connectivity between the parahippocampal gyrus or the medial prefrontal cortex and a part of the posterior cingulate cortex. And the intensity of this "disconnection" was correlated with the subjects' impression that their sense of self had dissolved and the meanings of things had been altered. Here we have a very interesting neuronal correlate with what users of this substance have been reporting for decades: the impression of becoming one with other people or even with the universe. These impressions also seem to be associated with improvements in well being for some time after the drug's immediate effects have worn off, which suggests that it might have therapeutic value, in particular for treating depression. And this is true not only for LSD, but also for psilocybin, the molecule responsible for the psychedelic effects of "magic mushrooms". For some years now, psilocybin has been investigated in numerous studies in which its neuromodulating effects on brain networks fostered freer mental associations and "expanded consciousness", both frequent psychological effects of this substance.
These changes that taking psilocybin induces in the brain's overall neural activity served as the basis for another study showing that the best models for describing what was going on were those that combined anatomical connectivity with neuromodulation.
The Emergence of Consciousness | Comments Closed
---