The word "hominids" is often used to refer to the human line that diverged from chimpanzees some 6 or 7 million years ago. It includes not only all the species of the genus Homo, bus also some related genera, such as Australopithecus, that are now extinct. The evolutionary history of our human line has been determined from findings of fossils, some consisting of just a few bone fragments or teeth. These fossils have shown that human evolution has followed a branching pattern, like a bush, and not a linear pattern like you see above, where the chimpanzee starts losing hair, walking more upright, and becomes Homo sapiens, only to end up working hunched over again, first with an industrial tool and then at a computer. There are various versions of this image—some show Homo sapiens in a suit and tie, or riding a bicycle—but all of them convey several false ideas about human evolution. (more…)
Evolution and the Brain | Comments Closed
---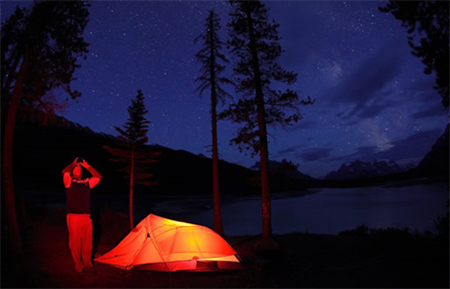 In the course of evolution, there have been many times when the future existence of my brain as I write these lines and yours as you read them has hung by the slenderest thread. Without the events, many of them quite unlikely, that occurred at these times, we would not be here today to speculate about their nature (or at least not in our current form). (more…)
From the Simple to the Complex | No comments
---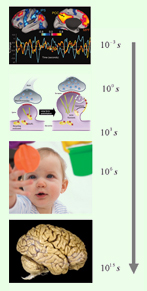 Today I want to talk about dynamic processes that occur on some very different time scales in the human nervous system. To do so, I will describe four examples very briefly, referring to the two graphics in this post.
The first of these processes, represented at the bottom of each graphic, is the evolution of the human nervous system, which occurs on the longest of these time scales, measured in millions of years. Over these very long periods, sexual reproduction has accelerated the diversification of our nervous systems by regularly producing variants or mutations. Some of these variants have proved capable of viable structural couplings with certain environments and have thus enabled their lucky owners to pass these nervous systems down to their descendants. I am purposely avoiding saying that these nervous systems are "better adapted to their environment", so as not to imply that part of this environment is unchanging or that there is always some optimal level of adaptation that organisms can achieve. To state it succinctly, evolution is more proscriptive than prescriptive: it of course eliminates certain mutations that are too incapable of viable coupling with their environment, but it "allows" all the rest. (more…)
Emotions and the Brain | No comments
---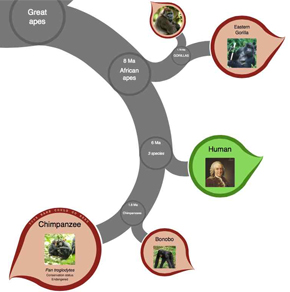 This week I want to tell you about two great websites for learning about the genealogy of every living thing on planet Earth. The first is the evogeneao Tree of Life Explorer, and it uses an incredibly ingenious design that lets you click on any currently living species and trace back to the common ancestor that humans share with it. An animation then shows you where this common ancestor is located in the phylogenetic tree of all living things and tells you how many years ago this common ancestor lived. (more…)
Evolution and the Brain | No comments
---

This week, as we have before in this blog, we are posting a set of links to pages on other web sites that discuss a subject covered in The Brain from Top to Bottom, along with brief descriptions of the content of those pages.
The subject this week is the sub-topic "Our Evolutionary Inheritance", under the topic "Evolution and the Brain"—an important topic indeed, for as the geneticist Theodosius Dobzhansky (1900-1975) wrote, "Nothing in biology makes sense except in the light of evolution." And when it comes to neurobiology, that assertion is especially apt. (more…)
Evolution and the Brain | Comments Closed
---