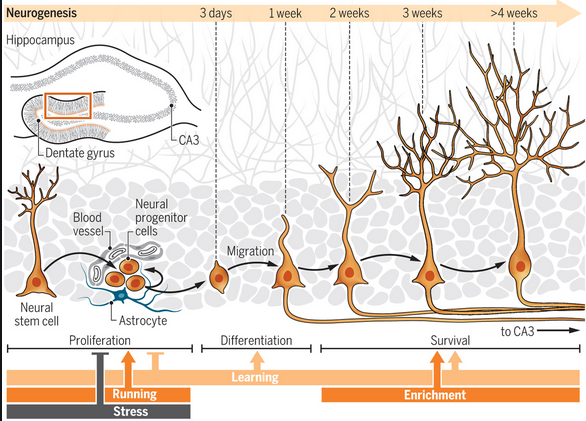 Today I just want to draw your attention to two researchers who are senior citizens but still active and still inspiring: Fred Gage and Deric Bownds.
Fred Gage recently gave an interview on his scientific career, in which he told how he became a pioneer in research on neurogenesis—the development of new neurons in the brains of adult mammals. It's always interesting to learn about the scientific career of someone who disproved an idea that was previously dogma. In Gage's case, it was the idea that had emerged during the last decades of the 20th century that when humans are born, their brains contain as many neurons as they will ever have and will only continue to lose them as their lives go on. (more…)
From the Simple to the Complex | Comments Closed
---

The processes leading to the many different illnesses that can affect people's psychic equilibrium are still hotly debated. Often, these processes involve multiple contributing factors which is why there are so many different hypotheses about them. In the case of depression, for example, one of the best known is the monoamine hypothesis, which associates the disease with underactivity of certain neurotransmitters. such as serotonin.
Several research laboratories are now working on a more recent hypothesis about the cause of depression, involving a phenomenon that was first confirmed in humans in the late 1990s: neurogenesis, meaning the birth of new neurons in the adult brain. The starting point for this hypothesis is that these young neurons seem to show greater plasticity and are found only in certain parts of the brain, such as the dentate gyrus of the hippocampus, that are associated with emotions. (more…)
Memory and the Brain, Mental Disorders | 1 comment
---