John Cacioppo is a pioneer in the field of social neuroscience. He observes that people who are socially isolated were long thought to be suffering from some form of mental illness. But research done on this subject by Cacioppo and a number of other scientists over the past 10 to 20 years shows that social isolation is very much caused and/or aggravated by environmental factors in the broad sense, ranging from political decisions to economic ideologies. Not the least of these factors is the emphasis that our capitalist societies place on productivity. People who cannot find their place in this highly hierarchical, competitive system are too often regarded as "losers" whom an increasingly frayed social-safety network can no longer support adequately. (more…)
Mental Disorders | No comments
---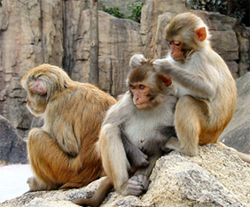 A study published in the November 25, 2016 issue of the journal Science shows that subordinate status in a social group seems to have harmful effects on an individual's immune system. More specifically, this study found that a female rhesus monkey's relative position in her group's dominance hierarchy influenced the functioning of her immune system in the following way: the lower her rank, the fewer immune cells of a certain type her body produced.
And such differences seem to be caused by the activation or non-activation of certain genes. The study's authors found that when they used experimental manipulations of the group to change individuals' ranks in the hierarchy, the rate of expression of these genes changed as well. (more…)
Mental Disorders | No comments
---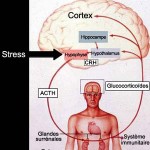 By the late 20th century, cognitive neuroscientists had recognized that they would never truly understand how the brain functions unless they also considered the body in which it does so. This concept of "embodied" cognition implies that the brain constantly maintains a dynamic relationship with the rest of the body, which in turn is totally immersed in its physical and social environment. This model contrasts sharply with others that compare the brain to a computer or treat it as a disembodied organ that simply manipulates symbolic representations of inputs to provide appropriate outputs. (more…)
Mental Disorders | Comments Closed
---

The brain is highly sensitive to the environment in which it develops, especially during childhood. Since the experiments conducted in the 1960s with rats raised in environments rich in sensory and social stimulation, there is no longer any doubt that an enriched environment promotes brain development, whereas an impoverished environment slows it down.
Regarding humans, there have been countless studies showing that low socio-economic status, usually associated with a poor environment, alters functions such as attention, working memory, language, and self-control. Beyond these, there are the overall harmful effects of social inequality on health. In Montreal, Quebec, for example, life expectancies are 10 years lower in poor neighbourhoods than in rich ones. (more…)
How the Mind Develops, Mental Disorders | Comments Closed
---

Exposure to chronic stress has many harmful effects, including effects on our cognition and mental health. The June 2009 edition of Nature Reviews Neuroscience presents several articles summarizing the most recent research findings on this subject.
One of these articles, by Amy F. T. Arnsten, shows how stress inhibits thinking, planning, and control activity in the prefrontal cortex, while strengthening the activity of the rapid reflex pathways connected to the amygdala and the subcortical structures associated with it. (more…)
Mental Disorders | Comments Closed
---